---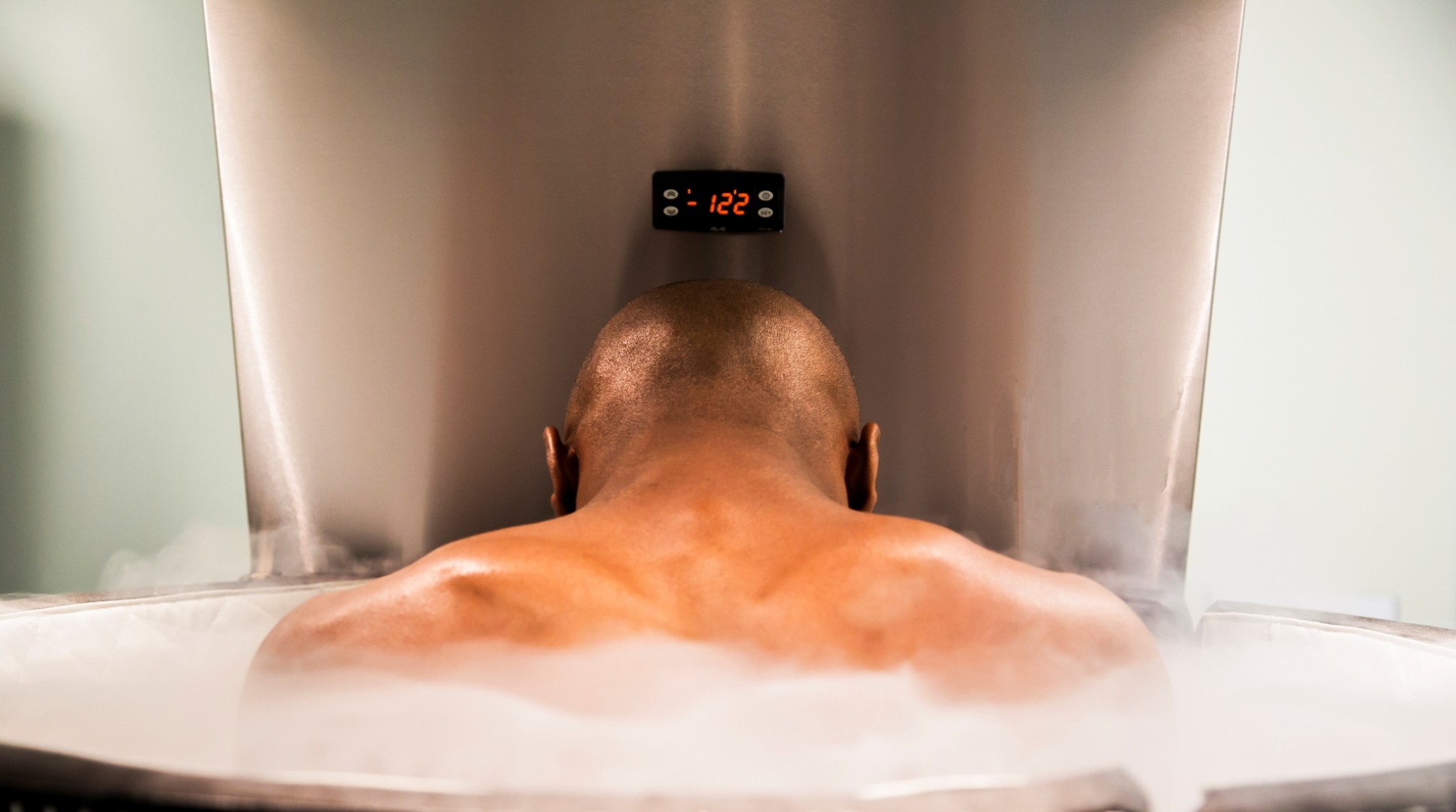 Whole body cryotherapy – as easy as 1-2-3!
Step #1: Complete the physical readiness form and waiver.
Step #2: Prepare to enter the cryosauna. This includes wearing undergarments, gloves, and slippers (socks, gloves and slippers provided). A light weight robe is provided to you as you make your way from a changing room to the cryosauna.
Step #3: Step into the cryosauna and enjoy the benefits of whole body cryotherapy.
Please note:
A trained technician will be with you during the entire session.
Our cryosauna doors are incapable of locking so you can easily exit at any time if you feel uncomfortable.
Although your skin surface temperature will drop to between 40° and 50° Fahrenheit during the 1 to 3 minutes you are inside the cryosauna, your body's core temperature will stay constant.
Unlike water or ice treatments, where the joints can remain stiff for hours, your body will immediately warm up after exiting the cryosauna and you will have full range of motion.
Any type of condensation on the body will freeze during exposure. It is recommended that you wear dry undergarments and pat yourself dry with a towel before leaving the changing room. Do not apply lotions, oils, cologne or any alcohol-based products prior to treatment.
- - -
Whole Body Cryotherapy
Whole Body Cryotherapy exposes the entire body from the neck down to temperatures colder than -140 degrees Celsius. A typical Whole Body Cryotherapy session lasts for 2-3 minutes. The session stimulates a full body, systemic response where increased blood flow throughout the body is triggered by the cold shock of the concentrated nitrogen gas that circulates within the cryosauna during the session. Users of whole body cryotherapy report decreases in muscle soreness and improved recovery.
Local Cryotherapy
Local cryotherapy exposes a targeted area on the body to extremely cold temperatures using a wand to target a specific area of the body with a controlled stream of concentrated nitrogen gas. A local cryotherapy treatment session typically lasts 5-8 minutes. The treatment stimulates a localized response where increased blood flow at the targeted treatment area is triggered by the cold shock of the concentrated nitrogen gas. Users of local cryotherapy report reductions in pain, inflammation, and swelling in targeted areas.
Cryofacial
A Cryofacial targets the skin of the face, scalp, and neck areas with a controlled stream of concentrated nitrogen gas. A Cryofacial typically lasts 10-15 minutes. Exposing the face, scalp, and neck areas with extremely cold temperatures encourages increased collagen production and reduces pore size. This treatment is very relaxing and recipients of Cryofacials report tighter looking skin.
Halo Cryotherapy Minnetonka
12993 Ridgedale Dr #103
Minnetonka, MN 55305
Phone: 952-595-5915
Info@halocryotherapy.com

HOURS OF OPERATION
Monday 8am-6:00pm
Tuesday 8am-6:00pm
Wednesday 8am-6:00pm
Thursday 8am-6:00pm
Friday 8am-2pm
Saturday 8am-1pm
Sunday – Closed
Stop in at TIGERFIT or call 952-595-5915 to schedule an appointment today!